Fully intelligent 40 kg (grass, block) large packaging production line
Scope of application:
The product is suitable for high-quality packaging of traditional Chinese medicine (blocks, roots, etc.), medicine, agrochemical, food and other industries, automatic feeding, weighing and filling, the machine needs manual sealing.

Equipment structure and features:
Automation: PLC control automatic separation of materials, automatic lifting of conveying materials, automatic coarse material + vibration feeding, intelligent weighing, manual operation of the trigger bag, discharge into the bag, automatic delivery of finished products, manual finishing bag sewing machine sealing large hopper The automatic splitting supplements the materials of the coarse material and the vibration feeding material to balance the material
High precision: innovative and practical weighing force transmission structure, automatic correction of drop, overshoot detection and suppression function; fast measuring speed and high precision
Simple operation: unique bagging and bag-holding mechanism design, the bag unloading automatically opens at the end of packaging, which can realize the quick loading and unloading of the bag. The weighing bucket is installed around the quick-disassembly door, which effectively separates the dust and quickly disassembles when clearing the material. The clean contact material is SUS304 stainless steel material, and the whole machine is designed according to GMP requirements.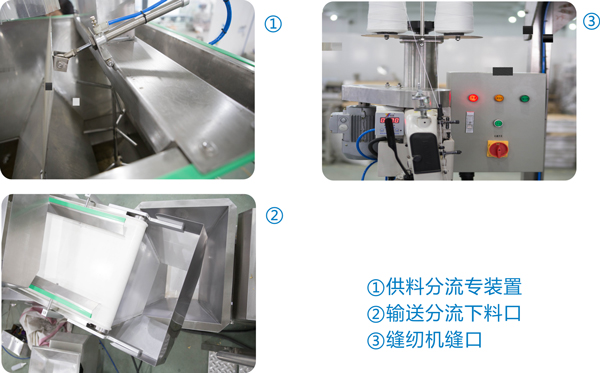 Process flow: